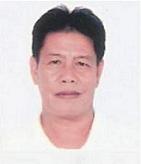 Engr. Wilfredo C. Cervantes, a 55 year old 5th Degree (Godan) Blackbelt, is a Civil Engr. and Contractor by profession residing at Phase 2, Central Park Subd., Davao City.
He joined the PSKA of Master Tacay in 1979 while still an Egneering student of the University of Mindanao, after 2 years practice under Sensei Orlando "Toti" Catadman of the Shorin Style and Sensei Lito Molina of the defunct JKA chapter in Davao City. Since then he become a loyal follower and supporter of the PSKAI.
However due to unavoidable circumstances and conflict in his studies, he laid off from training and pursued on his profession. In 1990 he returned training actively in the PSKAI along with Master Shin Tsukii of the Gojukai as guest conductor.
Engr. Cervantes also joined the Asian Pacific Union of Karatedo Organization (APUKO) Seminar and Clinic conducted by Japanese Masters Hiroyuki Setoguchi of the Shotokan Style, Toshio Ode of the Shito Ryu, Masashi Koyama of the Goju Ryu and Kiyumi Sasaki of the Wado Ryu in 1991 in Manila hosted by the Philippine Karatedo Federation.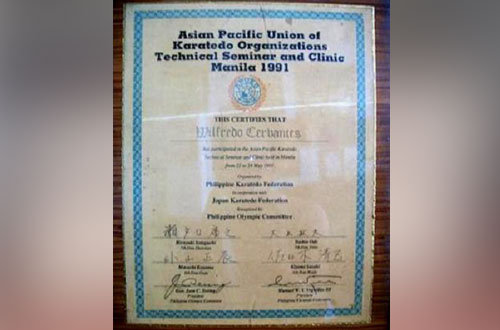 Shin Tsukii Sensei leads the PSKA Blackbelts in training session. At the right is Sensei Johnald Molina, next is Sensei Willy Cervantes.
Sensei Willy Cervantes together with the Japanese masters and some members of the APUKO Technical Seminar and Clinic held in 1991 in Manila.
GRADUATES OF PSKAI INSTRUCTORS COURSE & LEADERSHIP SEMINAR
---
| Names | Rank Acquired | Status |
| --- | --- | --- |
| 1. Orlando B. Catadman | 4th Dan Blackbelt | Deceased |
| 2. Benjamin P. Balmori | 4th Dan | Deceased |
| 3. Wilfredo C. Cervantes | 5th Dan | Active |
| 4. Johnald A. Molina | 3rd Dan | inactive |
| 5. Maurino B. Rosales | 4th Dan | (Reinstated) Active |
| 6. Cezar C. Racoma | 4th Dan | Active |
| 7. Bern Rexander R. Tacay | 6th Dan | Active |
| 8. Rex Tyrone R. Tacay | 5th Dan | Active |
| 9. Mila B. Romaquin-Tacay | 5th Dan | Active |
| 10. Macapagal U. Tending | 5th Dan | Active |
| 11. Dodanil M. Diaz | 4th Dan | Inactive |
| 12. Rexor R. Tacay | 3rd Dan | Active |
| 13. Shinji Rex R. Tacay | 2nd Dan | Active |
Blackbelts (1969- 1976) Tagum City
---
| Names | Rank Acquired | Status |
| --- | --- | --- |
| 1. Sinforiano B. Mantilla | 1st Dan Blackbelt | Retired |
| 2. Neofito D. Sellado | 1st Dan | Expelled |
| 3. Leonolito S. Gonzales | 1st Dan | Retired |
| 4. Roberto A. Rojas | 1st Dan | Deceased |
| 5. Vicente P. Madjos | 2nd Dan | Deceased |
| 6. Maximino M. Tacay Jr. | 3rd Dan | Renegade |
| 7. Veronico P. Madjos | 3rd Dan | Retired |
| 8. Ernesto M. Tacay | 3rd Dan | Renegade |
| 9. Teodulo L. Edig | 2nd Dan | Deceased |
| 10. Ignacio P. Federiso | 2nd Dan | Retired |
| 11. Rodrigo T. Trio | 2nd Dan | Retired |
| 12. Virgilio D. Canalija | 1st Dan | Deceased |
(1977 - 1986) Davao City
---
| Names | Rank Acquired | Status |
| --- | --- | --- |
| 13. Orlando B. Catadman | 4th Dan | Deceased |
| 14. Benjamin P. Balmori | 4th Dan | Deceased |
| 15. Edmundo A. Tar | 2nd Dan | Renegade |
| 16. Alfredo B. Rosales | 3rd Dan | Inactive |
| 17. Cirilo D. Comeling | 2nd Dan | Retired |
| 18. Johnald A. Molina | 3rd Dan | Retired |
| 19. Anecito D. Ambay | 2nd Dan | Retired |
| 20. Romeo L. Moleño | 1st Dan | Retired |
| 21. Nestor T. Ta-asan | 2nd Dan | Retired |
| 22. Peter D. Tacay | 1st Dan | Retired |
| 23. Wilfredo C. Cervantes | 5th Dan | Reactivated |
(1988 - 1992) Bonifacio St. and RMC Dojo
---
| Names | Rank Acquired | Status |
| --- | --- | --- |
| 24. Bern Rexander R. Tacay | 6th Dan | Active |
| 25. Rex Tyrone R. Tacay | 5th Dan | Active |
| 26. Mila B. Romaquin | 5th Dan | Active |
| 27. Elsa R. Gomez | 2nd Dan | Expelled |
| 28. Marjorie D. Apas | 1st Dan | Retired |
| 29. Reynold S. Alejo | 1st Dan | Expelled |
| 30. Ricardo T. Vestal | 1st Dan | Deceased |
| 31. Jerry E. Paredes | 2nd Dan | Inactive |
| 32. Ruel T. Quijano | 1st Dan | Inactive |
(1993 - 1995) Recto St. GHQ. Davao City
---
| Names | Rank Acquired | Status |
| --- | --- | --- |
| 33. Julieto C. Mejos | 1st Dan | Inactive |
| 34. Edito L. Comidoy | 3rd Dan | Retired |
(1995 - Present) Cag. de Oro City Chapter
---
| Names | Rank Acquired | Status |
| --- | --- | --- |
| 35. Cesar Z. Racoma | 4th Dan | Active |
| 36. Candice Zenia G. Racoma | 1st Dan | Inactive |
(1995 - Present) Saudi Arabia Chapter
---
| Names | Rank Acquired | Status |
| --- | --- | --- |
| 37. Macapagal U. Tending | 5th Dan | Inactive |
| 38. Dudanil M. Diaz | 4th Dan | Inactive |
| 39. Esmael Ali | 4th Dan | inactive |
| 40. Mohaire Tending | 2nd Dan | Inactive |
| 41. Jaime A. Catacutan | 3rd Dan | Inactive |
| 42. Danie C. Manah | 3rd Dan | Inactive |
| 43. Naser M. Amino | 2nd Dan | Inactive |
| 44. Nizar Ali | 1st Dan | Inactive |
| 45. Aldrin B. Oracoy | 1st Dan | Inactive |
| 46. Rolly S. Anta | 1st Dan | Inactive |
(2000 - Present) Phil. Air Force Chapter
---
| Names | Rank Acquired | Status |
| --- | --- | --- |
| 47. Sgt. Loreto C. Casido Jr. | 4th Dan | Suspended |
| 48. Jaime Abdul | 1st Dan | Expelled |
| 49. Sgt. Vernabe A. Dayson | 1st Dan | Inactive |
| 50. Sgt. Ricardo A. Caberte | 4th Dan | Active |
| 51. Marniel A. Dimla | 3rd Dan | Active |
| 52. Nelson A. Co | 2nd Dan | Active |
| 53. Neru Espada | 2nd Dan | Active |
| 54. Dominador Baesa | 1st Dan | Active |
(1995 - Present) Recto St. GHQ. Davao City
---
| Names | Rank Acquired | Status |
| --- | --- | --- |
| 55. Ronell S. Abellana | 2nd Dan | Active |
| 56. Loreto Casido Jr. | 4th Dan | Suspended |
| 57. Jaime Abdul | 2nd Dan | expelled |
| 58. Tony P. Baroy | 3rd Dan | Active |
| 59. Franco B. Lanosa | 2nd Dan | Renegade |
| 60. Matt Ronald B. Tan | 1st Dan | Inactive |
| 61. Edmund C. Flores | 2nd Dan | Deceased |
| 62. Rexor R. Tacay | 3rd Dan | Active |
| 63. Analene Evangelista | 1st Dan | Inactive |
| 64. Anna Fe Sumalinog | 1st Dan | Inactive |
| 65. Daniel L. Magallanes | 2nd Dan | Renegade |
| 66. Charles C. Neri | 2nd Dan | Inactive |
| 67. Shinji Rex R. Tacay | 2nd Dan | Active |
| 68. Sharif Omar Tukan | 2nd Dan | Suspended |
| 69. Reynaldo C. Llanda | 2nd Dan | Active |
| 70. Edil Berto P. Flores | 1st Dan | Suspended |
| 71. Miyuki R. Tacay | 1st Dan | Active |
| 72. Rex T. Escalante | 1st Dan | Active |
| 73. Arman AP Sunagawa | 1st Dan | Active |
| 74. Lya Marie Carillo | 1st Dan | Active |
| 75. Rex S. Aparicio | 1st Dan | Active |